The Walla Walla YMCA invites a new classroom of little students to reconnect with wonder! Our Outdoor Preschool with a nature-based approach to learning is open to ages 3-5. Limited availability, ask about registration today!
---
CHILD WATCH:
Monday - Friday
5:30PM - 8:00PM | 75 minutes max
Ages 6 months - 5 years
IMPORTANT: Space in our new Toddler Center is limited, so reservations through the mYTime scheduler are required. A mYTime reservation will only be honored if your child is registered with the Y. Please visit our Membership Services Desk to fill out a registration packet before scheduling online.
Monthly regular-use fee: $25
Annual regular-use fee: $300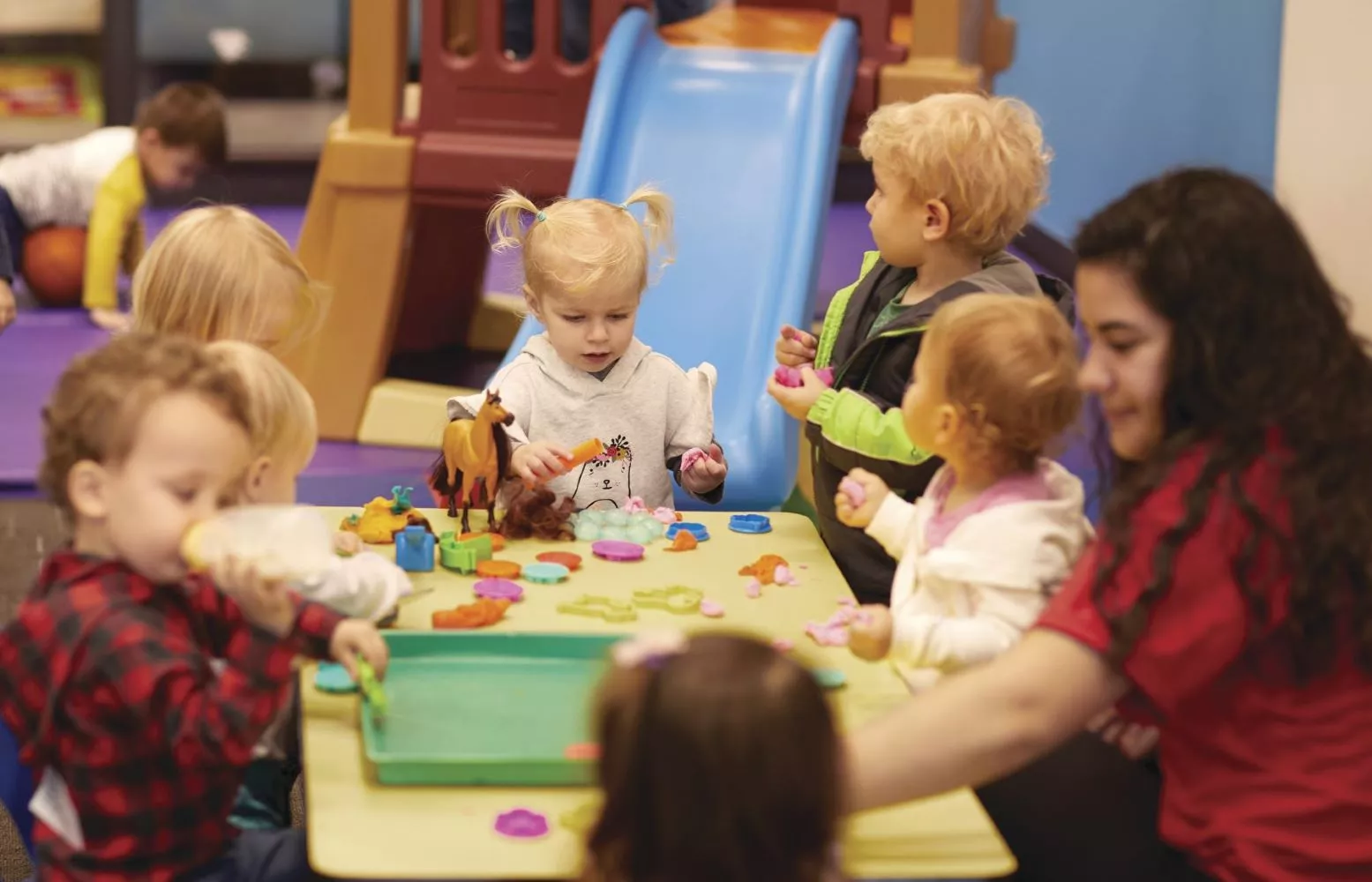 Kids Korner returns as Child Watch!
Let our qualified childcare staff supervise your kids with toys, coloring, and play while you work out or swim at the Y. 
A CARING PLACE
Children are encouraged to use their creativity, develop new skills, work and play with peers. We believe that families come first and we work to meet the needs of you and your child. Our COVID-19 prevention measures are designed to provide children a clean environment where they can learn and flourish!
We welcome children to experience:
TODDLER CARE (ages 1-3 years)

PRESCHOOL (ages 3-5 years)

BEFORE & AFTER SCHOOL CARE (K-5th grades)
Spots are full in all half-day & full-day programs offered in Walla Walla. Secure a spot on our waitlist by submitting a completed Registration Packet.
THE Y's CHILD CARE PROGRAM FEATURES:
STEM-based activities designed to build skills, friendships and belonging.

Emphasis on safety precautions, health, social growth and academic enhancement; we offer a nurturing learning environment under the supervision of our qualified, professional staff.

Nutritious snacks provided in the morning and afternoon.

Programs promote our core values of Caring, Honesty, Respect, Responsibility.
CHILD CARE YOU CAN TRUST:
We know that when you go to work, you want to be sure your children are in a caring and  enriching environment. That's where we come in! The Walla Walla YMCA offers high quality before and after school care for children. We are honored to serve children and youth from 14 elementary and middle schools across three school districts in both Walla Walla and Milton-Freewater. We are proud to be the largest onsite nonprofit provider of childcare in the Walla Walla Valley.
FOCUS ON CHARACTER DEVELOPMENT:
As with all YMCA programs, our focus is on character development. Whether creating a work of art or playing a team-building game, we instill our core values of caring, honesty, respect and responsibility.
FINANCIAL AID IS AVAILABLE:
We encourage all families to review government programs designed to greatly reduce the financial burden of child care! Learn more about assistance options below, and please don't hesitate to discuss scholarships with Y staff. We are here to help!
WASHINGTON ASSISTANCE
FAIR START FOR KIDS ACT
A New Kind of Legislation - Washington's Fair Start for Kids Act is an investment in children and families that is unlike any we have seen before. This act is intended to assist families with young children by making child care more accessible and affordable.
New Benefits and Eligibility - Changes to eligibility means that more families now qualify for child care benefits. If you didn't qualify for child care benefits before, you may qualify now! Families and caregivers can find out if they are eligible for these new benefits by visiting washingtonconnection.org
The act will reduce the cost of child care to no more than 7% of a family's income by 2023.
Reduces copays and expands eligibility for Working Connections Child Care.
Expands eligibility for enrollment for the Early Childhood Education and Assistance Program.
Expands access to support services, mental health consultations, dual language supports, complex needs funding, and more.
A complete list of the benefits and programs impacted by the act can be found at:
dcyf.wa.gov
OREGON ASSISTANCE
EMPLOYMENT RELATED DAY CARE
The Employment Related Day Care program (ERDC) helps working families pay for child care, including registration fees. ERDC is a subsidy program. This means families may pay part of the child care cost, called a copay. ERDC ​​works with partners to help families find quality child care​.
As of October 1, there is a new copay structure for families. Copays are much lower than before the COVID-19 pandemic.
If you apply or renew in October 2021 or later, you will pay the new lower copay amounts.
Copays range from $130 down to $0, depending on family size and monthly income.
Learn more about ERDC online or by downloading this brochure:
Child Care Assistance for Working Parents (Español)
USDA FOOD PROGRAMS
View the NDS Long Version as related to Oregon Department of Education Child Nutrition Programs (ODE CNP) offered through the YMCA.
OUR STAFF
YMCA child and youth care staff understand the cognitive, physical and social development of kids. They support and encourage children and youth, foster friendships, teach new skills, and have fun!
OUR SITE DIRECTORS:
Are experienced and qualified

Meet or exceed state licensing requirements for education
ALL YMCA STAFF:
Are background checked annually

Receive first-aid and CPR certification

Receive ongoing professional development, training, observation and support

Have been trained in infectious disease-prevention procedures